CALLING ALL MISFITS & REBELS!! Get ready, Five Points Festival is hosting a surprise pop-up event! Oct 5th & 6th!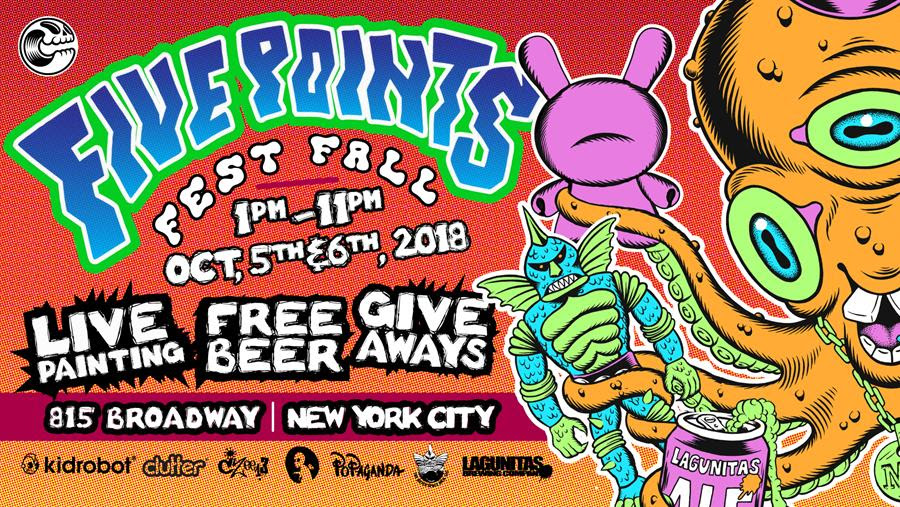 We are super excited to be teaming up with Five Points Festival and our friends at Kidrobot, Clutter, POPaganda, Martian Toys, Mutant Vinyl Hardcore, Lagunitas and more to party during the weekend of New York Comic Con 2018!
Join us for 2 days and nights of designer toys, live painting, exclusive drops, giveaways, lotteries, beer, DJs, and so much more!!
Featuring art and appearances by Ron English, Jason Freeny, Tara McPherson, Czee13, Kikkake Toys, American Gross, The Bots, The Outer Space Men, Nugglife, plus other surprises!
Hang out with us at the Five Points Fall pop-up shop, October 5th and 6th, at 815 Broadway in New York City from 1pm – 11pm. Free Entry!
 Friday, October 5th 7pm-11pm
Kidrobot Parrrty Five Points Fest Style!
Come celebrate Kidrobot, the jewel of the Designer Toy community, with an all-out PARRRTY!! Featuring signings, live painting, giveaways, competitions and more! Meet the artists and sip on a beer, fueled by our friends at Lagunitas!
Saturday, October 6th 7pm-11pm
Ferocious Choke Hold!
Five Points Festival Fall, exclusive drops from some of your favorite sofubi and vinyl artists including, Mutant Vinyl Hardcore, Kikkake Toys, Rampage Toys, and more.  Art, toys, and beer, what could go wrong?!
Five Points Festival is YOUR antidote to the average con. All misfits and rebels welcome!
Facebook Comments