YOU ASKED… SO WE DELIVERED!
We are extremely excited to present a special add-on event to the Saturday lineup of the 2023 Five Points Festival!
Join us as Kaiju Big Battel brings their live monster mayhem to Five Points Fest 2023 ONLY on Saturday, June 10th!
See ghastly giants and massive monsters in awesome fighting action!
Presented in the style of professional wrestling events, these costumed performers play the roles of giant, city-crushing monsters similar to Godzilla and Gamera! Kaiju Big Battel brings you performances that are parodies of both professional wrestling and the tokusatsu kaiju eiga films of Japan.
To make this possible, this is a separately ticketed add-on feature. Priced at just $20 a head (when purchased in advance), the ticket will guarantee you access to be ringside during this epic event! 
You better be quick as this will sell out fast.
$20 advance or $25 day of the show!
Space is limited, and ticket holders will be prioritized. Vendors, Press, and guests will be admitted while space permits.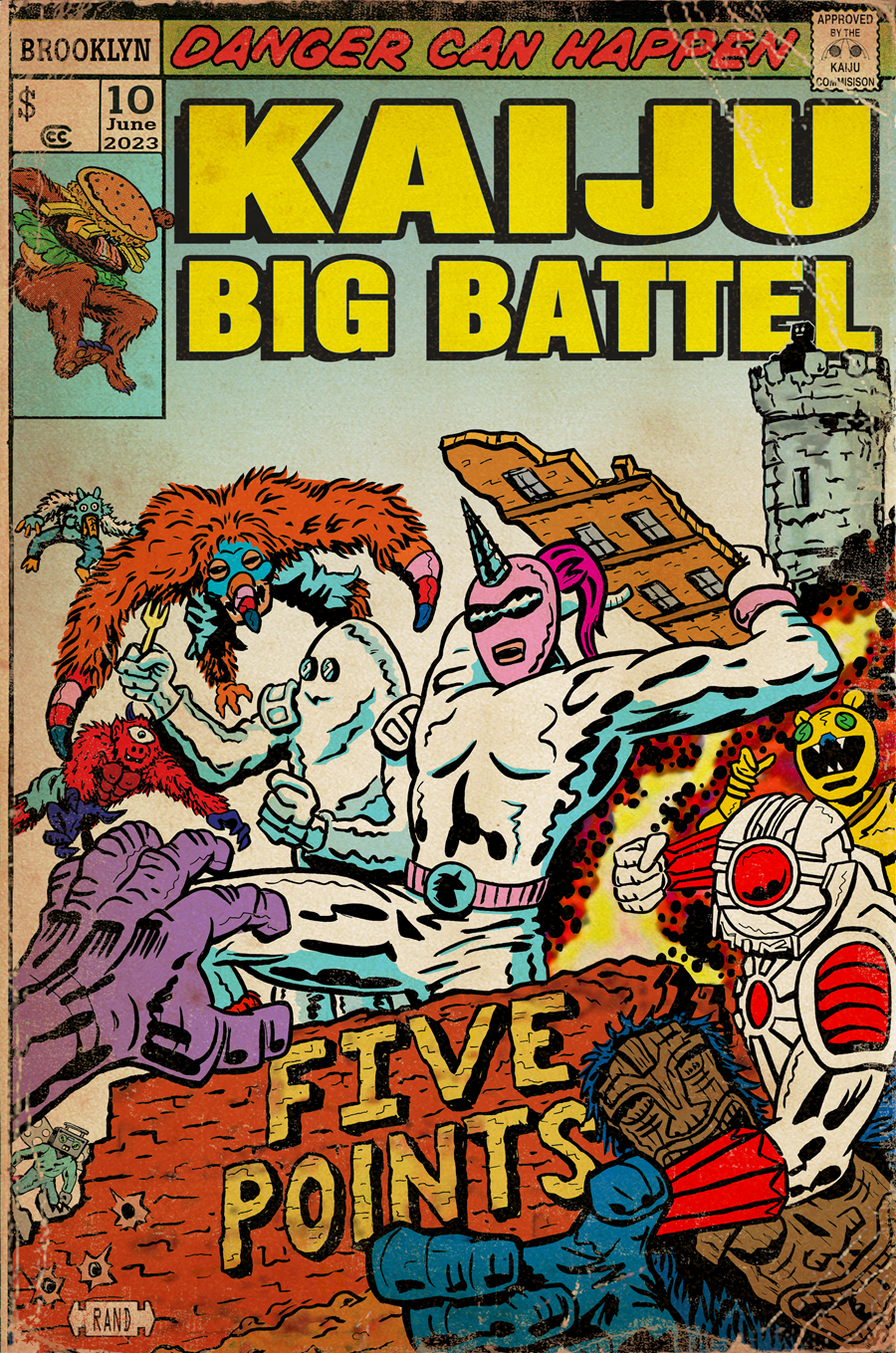 Performances include many injokes aimed towards fans of professional wrestling (especially Mexican wrestling), superhero comic books, and Japanese popular culture. Many of the names of the characters are in mock Spanish or mock Japanese comedic effect.
Five Points Fest is a curated celebration of toys, art, and culture. A massive party, unlike any con you've ever attended!
Five Points Festival, America's premiere Designer Toy festival, you know, the one that brings together the shining stars of Designer Toys, Street Art, Indie Comics, Enamel Pins, and More from all over the world IS BACK!
A curated celebration of world-class, cutting-edge, Designer Toys, alternative comics, and independent artists. Featuring crazy monsters, bizarre creatures, awesome robots, weird aliens, and pop-culture perversions, we bring together like-minded tribes for a massive party, unlike any con you've ever attended!
Five Points is June 10-11, 2023
@ZeroSpace in Brooklyn, NYC.
[PLEASE NOTE: If you have an unused ticket from 2020, please get in touch. We will verify your information and issue you a new ticket from our new provider. This is the final chance to use that ticket!]
THANK YOU TO OUR AMAZING SPONSORS!